Reading Berlin From a Kitchen Window
Lynnette Widder
30. September 2022
Berlin, July 2016 (Photo: Hans-B. Sickler/Flickr/CC BY 2.0)
Kirsty Bell's The Undercurrents: A Story of Berlin is billed as a "hybrid literary portrait of a place [that] makes the case for radical close readings: of ourselves, our cities, and our histories." Lynnette Widder, associate professor at Columbia University and author of Year Zero to Economic Miracle: Hans Schwippert and Sep Ruf in Postwar West German Building Culture, delves into Bell's book recently published by Other Press.
The flaneur belongs to 19th-century Paris, but the practice of describing a city through a casement window belongs instead to 19th-century Berlin. In Des Vetters Eckfenster (1882), E. T. A. Hoffmann's fictional invalid narrated his story from his bay window, an architectural element — the erker ­— that still characterizes the city's older street fronts. The first and most successful novel by Hoffmann's near-contemporary Wilhelm Raabe relied on the view from his boarding house. Raabe named his fictional street for the starling, a species of city birds attracted to shiny objects. His pseudonym, Jakob Corvinus, borrowed the Latin genus for crows, the other avian collectors under whose watch Berlin went about its business.
Writing two centuries later, Kirsty Bell has structured her book on Berlin by what she could see from her kitchen window. It is a decision that allowed her to research, parse and recount histories that, in unexpected and startling ways, not only explain the city from its early expansion through to the fraught politics of its many twentieth-century permutations and the pre-pandemic party city of the twenty-first, but also account for the experiences, circumstances and belief systems that support her intuitions about the city's undeniable grayness.
The structure of Bell's book is intimate, but it is neither an impressionistic memoir nor a personal essay. It slips among registers and tonalities: in the introduction, for example, the author couples her history-writing to the dissolution of her marriage, using a flood in a newly renovated kitchen and a series of arrayed sentence fragments to communicate emotional immediacy. In other parts of the book, the stylistic choices are quieter but the chronicles of historic fact and personal experience remain intertwined. At some points her narrative is disrupted by figures and beliefs that would typically remain outside the boundaries of such serious history writing: a German feng shui practitioner who diagnoses trauma in the angled corner room of the author's apartment, an astrologer who recommends placing dark stones in those corners to absorb residual hauntings, the use of family constellation therapy to treat her apartment house as a whole. The inextricability of the author's persona and the city fabric she describes means that questions of atmosphere and aura — the unspoken basis of Berlin's mythic status — are taken no less seriously than documented fact.
Ruins of Berlin Anhalter Bahnhof (Photo: Magnus Hagdorn/Flickr/CC BY-SA 2.0)
The house in which Bell lives is, fortuitously, located on the canal that, read left to right on a map, sweeps from the west, branching south not far from the Zoo train station that was the city's primary arrival point for the forty years of its division; through its primary public park, the Tiergarten; down past Mies van der Rohe's National Gallery; and then east through Kreuzberg into Treptow, with its Russian memorial and its storied planetarium where Einstein first lectured on relativity. The canal, Bell explains, is the product of 19th-century engineering and at the time of its excavation, marked the boundary between the inner city and its still-bucolic environs. Bell's house was built in 1869 as the canal became the primary transportation route for building materials during Berlin's explosive expansion. Using documentation gathered at various municipal offices, Bell interpolates the first and the subsequent owners' family circumstances and business enterprises, which she locates in the societal context of each relevant moment in history. Fiction, journalism and memoire of each period convey both prevailing societal conditions and critiques of the status quo. The presence of a major rail station, also visible from her window, and its ruination during World War II provide material for several chapters that cover Berlin's most dismal years as capital of the Third Reich. That the view extends to the city's historic center, the former capital of the German Democratic Republic, prompts her consideration of the city's late 20th-century history, leading to the moment of Bell's own arrival.
Bell's research is impeccable and covers different territory than other chronicles of this well-documented city. Her readers will learn much about Berlin's urban development; its infrastructure and town planning overlays; its role in Weimar, Nazi and Cold War culture; and its base geology and hydrology. Integrated into these accounts are its best known literary and political protagonists from the 18th century onwards, but also lesser-knowns, many of them women whose professional work has remained unfairly eclipsed. Bell effectively integrates these voices that include 20th-century journalist Gabriele Tergit; novelist Vicky Baum, widely quoted by an earlier, male historian who nonetheless dismissed her as second-rate; and political theorist and activist Clara Zetkin, whose personal letters communicate the violence present in the fantastical Berlin of the 1910s and 20s. These intertwining narratives make for a book more literary than didactic.
Bell's Story of Berlin is a new and appropriate way to approach a city that evokes all kinds of imaginaries but, upon arrival, often seems stunningly ponderous and indifferent. I, for one, first arrived in Berlin in the summer of 1985 and spent a full day on foot to find a singular entity called "The Wall" without realizing that, all the while, I was circumambulating it, so unspectacular was the experience. As Bell's extensive and useful list of works referenced affirms, there is ample literature written from more scholarly, journalistic and hedonistic perspectives. One in particular, Brian Ladd's The Ghosts of Berlin: Confronting German History in the Urban Landscape (1997), was structured around the contested sites that pepper the city. Although Ladd included his own observations, they were generalized, seen through the eyes of an everyman. Bell instead gives us Berlin as she has lived it, organized by the swath of city seen from the table at which she wrote. In literature, the practice of autofiction has made the careers of such authors as Rachel Cusk and Karl Ove Knausgard. Why not welcome it into writing about architecture and cities?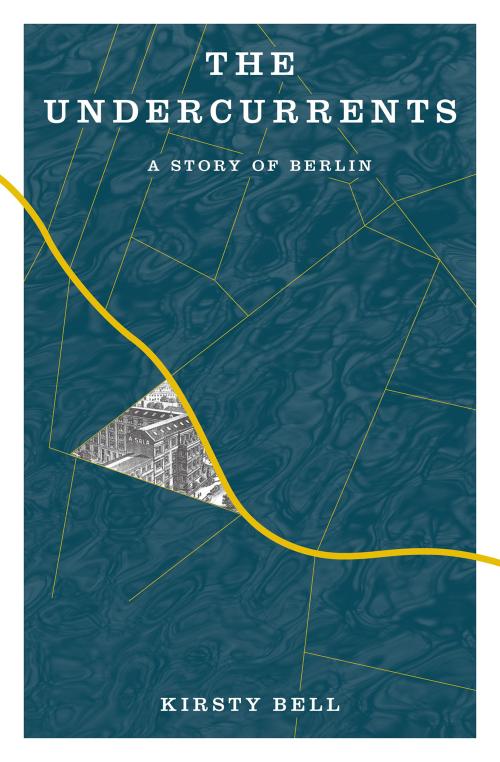 The Undercurrents: A Story of Berlin
Kirsty Bell

5-1/4 x 8 inches
400 Pages
7 Illustrations
Paperback
ISBN 9781635423440
Other Press
Purchase this book

Other articles in this category